Nakamoto's Den 2019 – The Venue
Nakamoto's Den will take place at Limassol's Carob Mill Venue Complex, one of the finest function centres on the island, conveniently located between the Medieval Castle and the New Limassol Marina. The combination of wood and stone propounds a mysterious atmosphere at the location provides 1500+ m² of indoor space. Divided into a complex of two distinct areas, the first area of the Old Carob Mill consists of the restored Carob Mill – where the machinery used in processing the carobs is preserved and displayed – and the second area houses an exhibition area and ceremonial hall.
Located in the heart of the old town of Limassol, the surroundings around the old Carob Mill offer the potential to visit other historical sites around it such as the Ayia Napa cathedral, or the Kebir Mosque, as well as a number of restaurants and cafes to rest and indulge in the local gastronomy and the Limassol Seafront promenade.
The Carob Mill is a perfect location for Nakamoto's Den as it showcases the change from the old guard to the new school. From a traditional historical building to a beautifully renovated interior which will inspire the great minds attending to look to the future.
Map Legend:
[booths]

Richard & Berengaria Halls

– Two large halls combined, used for Exhibitor Booths

[auditorium]

Ceronia Hall Auditorium

– Main stage and battle area, with 650 seat capacity.

[vip-balcony]

Ceronia Hall Mezzanine

–  Balcony for VIP viewing pleasure, with 160 seat capacity.

[vip-room]

Queen Eleanor Suite

 – VIP Room with chairs, sofas and a fireplace, specifically-designed for conversations and relaxation.

[lobby]

Bellow Queen Eleanor Suite

– Coffee and hangout space with mobile charging stations, located next to the smoking area exit.

[receiption]

Reception/Museum

– Attendees will be welcome by our reception/museum, where unique historical pieces can be found.

[bar-area]

Entry Hall  – Bar area, where attendees can have fun, relax and network.
Map version_0.4 (still under construction):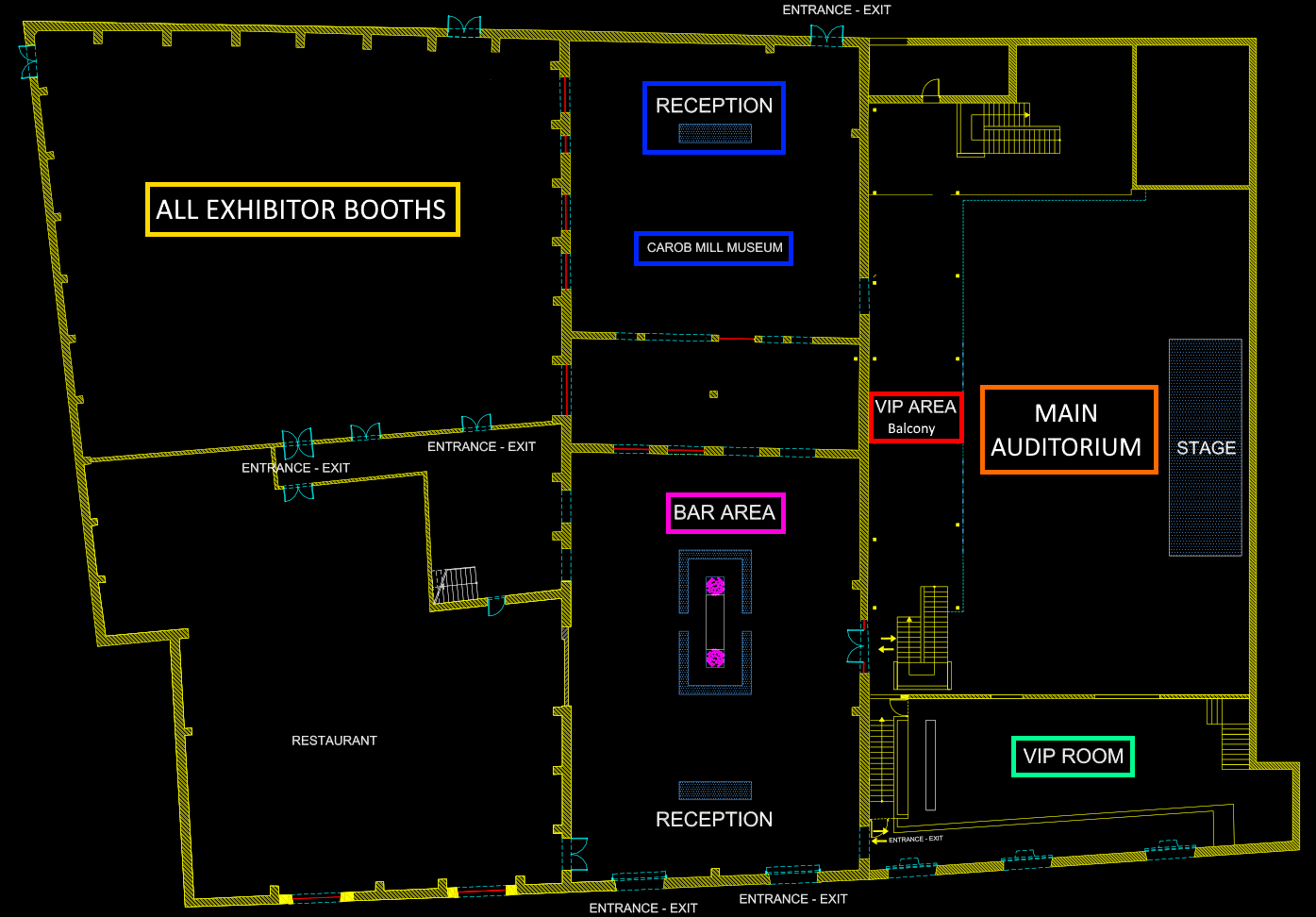 The above map is a schematics map of the whole Carob Mill area that will be used for Nakamoto's Den. This does not include surrounding restaurants that will also be allocated for Nakamoto Den attendees during the days of the event.
A separate Exhibitor Booth plan map will be posted soon.
Looking for a hotel stay nearby? Want to know where most of participants will be dwelling?
Head over to our Recommended Hotels Nearby page!